Chubby Chernobyl Hopper Yellow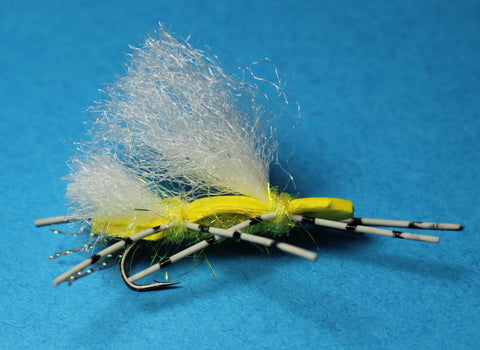 This Chubby Chernobyl - Yellow pattern is a summer pattern. This Yellow Hopper  pattern is a color variation on the Tan Hopper and imitates grasshoppers that have blown into the water, falling from vegetation or the poor ability to fly.
Fish this Hopper pattern into and around the banks of heavy vegetation in the height of the summer. The bigger the bug the bigger the strike so be prepared for explosive action. When fishing in slower waters twitching the line to give the struggling bug action, in faster water long extended natural current drifts are essential.
Fish this pattern on the top water with a slow retrieve with action. With their size, explosive strikes will occur and large trout will be looking for this tasty morsel.
All flies are tied with American sourced materials including Hareline Dubbin Materials and Whiting Farm's Hackles & Capes and are tied on premium hooks.
---
More from this collection