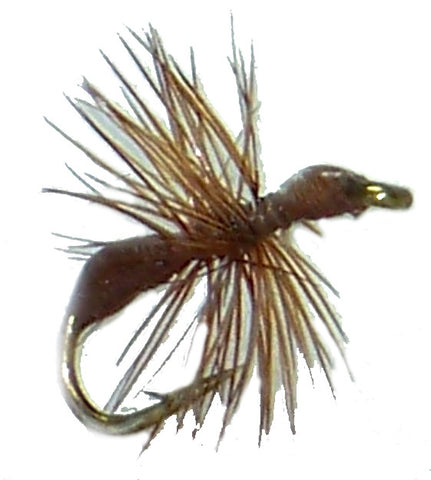 This Brown Ant pattern is an excellent complement to the Black Ant pattern may already have and this Brown Ant pattern represents widespread and common Brown Ant found in and around most rivers, streams or lakes.
Brown Flying ants are common in range and size. This terrestrial is an essential addition to your collection and can be fished throughout the entire season. Best fished on a dead drift, under the overhanging limbs of trees, this pattern is very effective. In instances where the water is very calm and flat, with few eddies, a twitch on the line would give the best imitation for a live ant stuck in the surface tension of the water. Invariably, the ant will naturally become submerged. In a slower, deeper run, a tiny split shot can be used to suspend the ant subsurface or in mid water table.
During the summer months this pattern is very productive especially, after a heavy rain when the natural form will be driven down to the water by the rain droplets. As with the Black Ant patterns during the summer at the beginning of a swarm, or in the days that follow, the pattern will be extremely effective.
All flies are tied with American sourced materials including Hareline Dubbin Materials and Whiting Farm's Hackles & Capes and are tied on premium hooks.
---
More from this collection