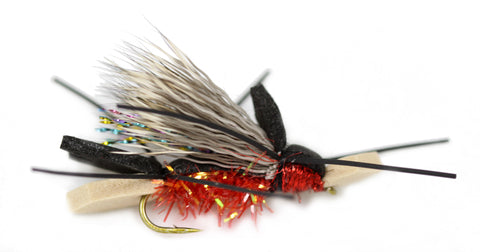 This Amy's Ant Red pattern should be accompanied by Amy's Ant Lime / Light pattern. This pattern imitates a broad range of ants, carpenter ants, terrestrials and beetles. Credit is given to Jack Dennis who originally tied this fly and named it after his daughter.
This Amy's Ant Pattern can be used to imitate larger terrestrials and as such even in the absence of swarming ants try this pattern, you will be pleasantly surprised. This pattern can be fished all summer long and is productive on all waters specifically wood lined, ponds, lakes, rivers and small streams.
Fish this pattern on the top water with a slow retrieve with action. With their size, explosive strikes will occur and large trout will be looking for this tasty morsel. Increased visibility and buoyancy make this pattern a great pattern to fish in tandem with a dropper.
All flies are tied with American sourced materials including Hareline Dubbin Materials and Whiting Farm's Hackles & Capes and are tied on premium hooks.
---
More from this collection