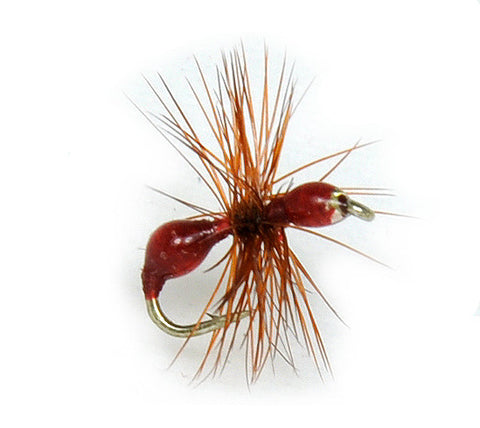 The Red Ant is an excellent complement to the Black Ant and Brown Ant patterns you may already have. This Red Ant pattern represents the infamous Red Ant found in various regions of the USA.
This terrestrial is an essential addition to your collection and can be fished throughout the entire season. As with all ant patterns, having a range in (hook) size for each pattern will be essential so as to not miss that opportunity. Where there are foliage overhangs, when the water is calm and flat, this terrestrial is best fished on a dead drift, punctuated by a twitch on the line giving the best imitation for a live ant, stuck in the surface tension of the water.
During the summer months this pattern is very productive at the beginning of a swarm when only a few of the natural ants have fallen to the water. In the days that immediately follow these summer swarms, the pattern will be extremely effective as the trout have acquired the taste.
All flies are tied with American sourced materials including Hareline Dubbin Materials and Whiting Farm's Hackles & Capes and are tied on premium hooks.
---
More from this collection