Cicida - Yellow Flash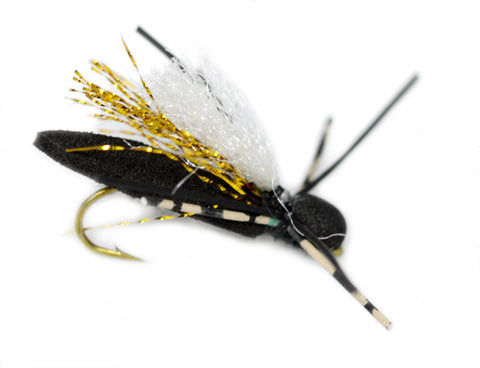 This Cicida with Yellow Flash pattern imitates the "tree cricket" that can be found in many regions of the USA and worldwide in many warmer tropical climes.
The Cicida pattern is thought to have originated in New Zealand. The flash will stimulate a little more interest in the Cicida. There are a number of schools of thought on this pattern none least the myth that one has to wait many years for the hatch of this large insect to appear.
This large insect should be fished on the top water whenever Cicidas are abundant, as they will emerge from the ground and gusts of winds, or bad take offs, will result in some falling into the water. Fish this pattern on the top water with a slow retrieve with action. With their size, explosive strikes will occur and large trout will be looking for this tasty morsel.
All flies are tied with American sourced materials including Hareline Dubbin Materials and Whiting Farm's Hackles & Capes and are tied on premium hooks.
---
More from this collection