Blue Dun Midge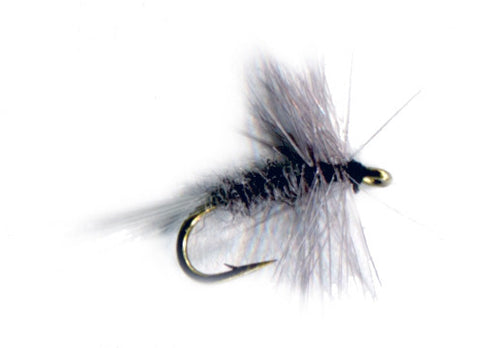 This Blue Dun Midge pattern is a very versatile mayfly pattern and is an excellent and essential early season imitator of a multitude of mayflies including Blue Quills, Hendricksons, Quill Gordon's and Blue Winged Olives. This pattern yields fantastic results at the end of the day in smaller quieter eddies and pools, where trout may be resting for the evening.
A deft touch on delivery of such a small fly is essential. Invariably the hatches it imitates occur from mid to late morning, through late afternoon. This of course depends on specific local entomology as to which mayfly it is working for. An excellent early season pattern, the Blue Dun Midge covers a broad range of hatching mayflies, making a range of hook sizes essential.
When fishing any dry fly pattern, matching the color and the size to the hatch are critical, with presentation being the finishing touch to this trinity. Often overlooked is the casting of shadow from your leader, which may lead to spooked fish.   We suggest selecting a high float leader. Additional waterproofing can be given to you fly delaying it becoming waterlogged, by applying a flotant product such as Gink ®.
All flies are tied with American sourced materials including Hareline Dubbin Materials and Whiting Farm's Hackles & Capes and are tied on premium hooks.
---
More from this collection