Tarpon Fly Big Eye Yellow and Orange Epoxy Nose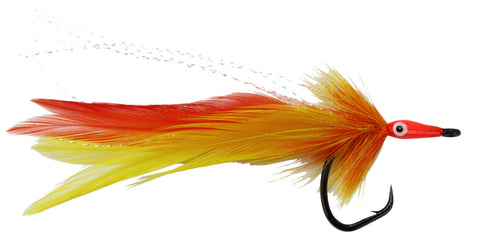 Our own Tarpon Fly Big Eye Orange and Yellow Grizzly uses is a traditional tarpon fly, tied like a Stu Apte fly.  Tied on a VMC x 2 hook. The hook set to hook up ratio just went up !!
The shape and swimming action of this fly give a great silhouette and will catch fish. We have also ensured that main body of the fly is tied to give a fantastic swimming action. This is a well balanced fly with great durability and look ideal for sandy bottoms or open water.
All flies are tied with American sourced materials including Hareline Dubbin Materials and Whiting Farm's Hackles & Capes and are tied on premium hooks.
This pattern is produced exclusively for Dryflyonline.com and supplied by Samaki Flies
---
More from this collection